Distinguished Gentlemen's Ride: Sunday 28th September 2014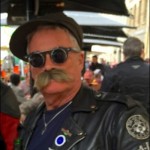 The Italian Motorcycle Club members are again invited to get behind a great cause and raise money for prostate cancer research and help. We've done it before for the Red Cross and I know we can do some great work here as well.
So members, friends, family and acquaintances can all have a part play by donating whatever they can afford to help out.
On Sunday the 28th of September, our team are going to press their cravats, polish their brogues and motor along in the 2014 Distinguished Gentleman's Ride to help find a cure for prostate cancer.  Why? Because over 1,300 men a day die of prostate cancer worldwide. And that's just not cricket. Your donation will help The Distinguished Gentleman's Ride reach its goal of $US1 million to fund research into a cure for a disease that claims far too many gentlemen each and every year.
So be a sport and sponsor our ride — we thank you ever so much!
Regards
Rod Taylor